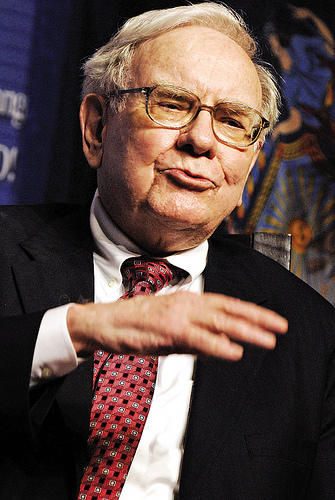 Warren Buffett. The legend. The greatest investor of our time. This man has a lot to offer and it is a must that you begin to learn from the best. Whether your into investing or not, he offers pearls of wisdom that you may not be able to discover elsewhere. His story is remarkable and I advise you to check up on his biography if you are not aware of who he is.
Anyways, below are some of his greatest quotes that offer insight into what makes him so darn successful.
"I always knew I was going to be rich. I don't think I ever doubted it for a minute."
It is no surprise that Warren accumulated so much wealth because from the get go he knew this was exactly what he wanted to do. It is much easier to accomplish something if you know what you are after. Otherwise you are just travelling blindfolded in an attempt to luckily land on success which is far less likely. Therefore it is a must that you clearly define your goals and dreams. Create your own vision. Eliminate all doubts whatsoever. No room for doubts on the pursuit of success. Doubts keep people broke and their dreams unfulfilled. We all have doubts, however it is important to not surrender to them. Rise above and keep going. Never give in. Don't let up and don't give up.
"I don't look to jump over 7-foot bars: I look around for 1-foot bars that I can step over."
Many people believe that success comes fast. This unfortunately is rarely the case. Instead all the big successes that characterize the successful are the result of small successes. All those small successes begin to add up and are ultimately what gives rise to the creation of the big life making successes. So take it easy and understand that the pursuit of success is all a process. Get some small successes under your belt.
"I never attempt to make money on the stock market. I buy on the assumption that they could close the market the next day and not reopen it for five years."
Although this quote seems greatly applicable to only investors it actually offers some great advice for the everyday person. You always need to be thinking long term. Don't get caught up in instant gratification. Instant gratification is the enemy of long term success. Be wise and think how your decisions are going to effect you 5-10 years down the road before proceeding to make them.
"It takes 20 years to build a reputation and five minutes to ruin it. If you think about that, you'll do things differently."
Your reputation defines you. Sure you cannot control what others say about you, but you can influence their perception of you. Warren would not have made it this high up the ladder if it wasn't for his honesty and integrity. A great way to increase your reputation is by always keeping your word. This simple tactic will go along way since majority of people do not keep their word in today's times.
"It's better to hang out with people better than you. Pick out associates whose behavior is better than yours and you'll drift in that direction."
The quote above is simply one of the truest statements ever made. Read it and apply and watch your life change. If you could only do one thing that would result in the greatest effect you should do the above. Simply life changing. Majority of people surround themselves with people who are worst than themselves. Sure this gives a rise to your self esteem, but it robs you of ever becoming better so seek out the very best and watch your whole mentality change for the better.